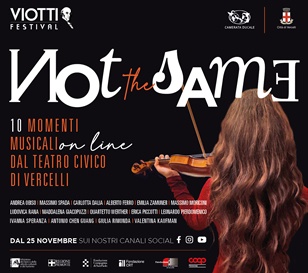 NOT THE SAME: la musica viaggia online
"Not The Same" è la rassegna on-line che ha visto protagonisti quelli che in assoluto si possono definire i migliori giovani solisti della nuova generazione.
10 momenti musicali registrati al Teatro Civico di Vercelli, con la platea vuota, in una ambientazione sospesa e fiabesca, hanno riscosso un grande successo di pubblico: più di 15.000 visualizzazioni totali.
Con questo progetto abbiamo voluto lanciare un messaggio importante: la musica online, per quanto affascinante possa essere, non potrà mai sostituire quella dal vivo.
Ecco i video tuttora liberamente fruibili:
25.11.20 Andrea Obiso violino – Massimo Spada pianoforte |
Video
28.11.20 Carlotta Dalia chitarra |
Video
2.12.20 Alberto Ferro pianoforte |
Video
5.12.20 Emilia Zamuner voce – Massimo Moriconi basso elettrico |
Video
9.12.20 Ludovica Rana violoncello – Maddalena Giacobuzzi pianoforte |
Video
12.12.20 Quartetto Werther |
Video
16.12.20 Erica Piccotti violoncello – Leonardo Pierdomenico pianoforte |
Video
19.12.20 Ivanna Speranza soprano |
Video
21.12.20 Antonio Chen Guang pianoforte |
Video
24.12.20 Giulia Rimonda violino – Valentina Kaufman pianoforte |
Video