BRAVO | VIOTTI TEA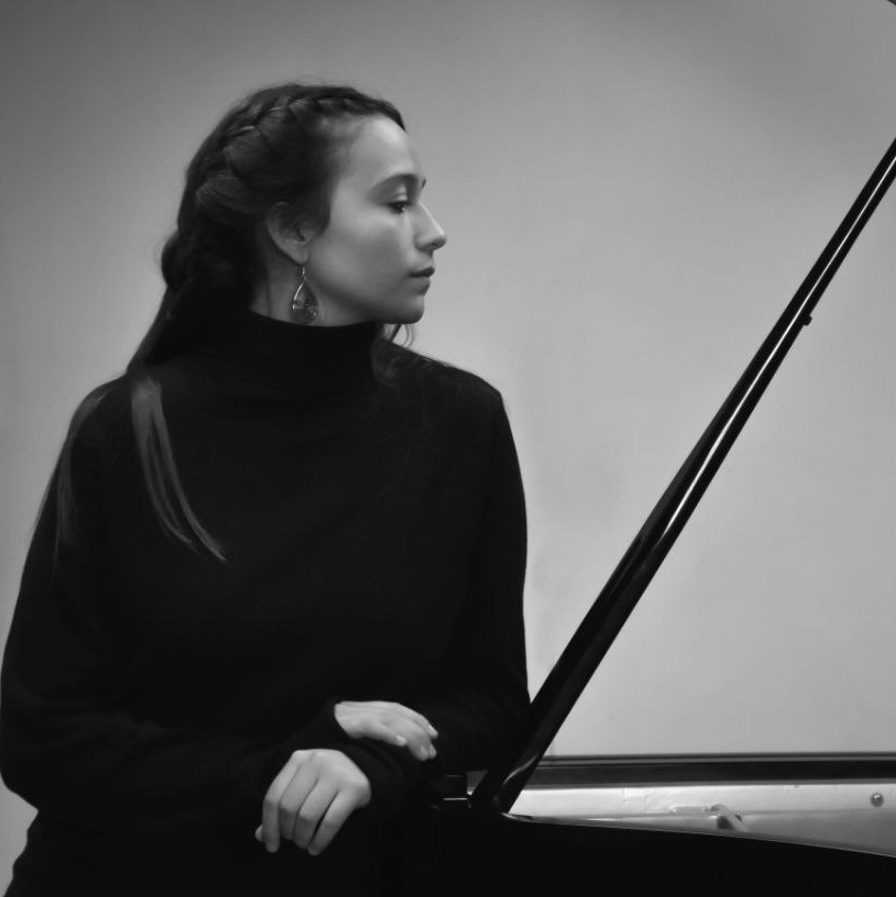 Musiche di Schumann, Chopin, Granados
Viotti Club | Via G. Ferraris 14, Vercelli - Ore 17.00
---

Interpreti
Monserrat Bravo pianoforte
PROGRAMMA
Schumann
Kreisleriana, otto fantasie per pianoforte op. 16
Chopin
Notturno Op. 9 n. 3 in Si maggiore
Granados,
Da Goyescas:
El Amor y la Muerte. (Balada)
La maja y el Ruiseñor
INGRESSO 5 €
Prenotazione scrivendo a biglietteria@viottifestival.it o telefonando al numero 329 126 07 32
Nata nel 1995 a Santiago del Cile, ha iniziato a studiare pianoforte a 9 sotto la guida di Yelena Scherbakova al Conservatorio dell'Universidad Mayor de Chile. Nel 2010 è stata ammessa all'Institut of Music of Pontificia Universidad Católica de Chile, dove ha studiato fino al 2016 con il prof. Mario Alarcón. Nel 2017 è stata ammessa al Corso preaccademico di pianoforte (uditore attivo) al Conservatorio Giuseppe Verdi di Torino sotto la guida di Giacomo Fuga. Si è esibita in varie sale da concerto tra cui Teatro Municipal de Santiago (Claudio Arrau Hall), Biblioteca Nacional de Chile, Cultural Institut of Providencia, Deutsch-Chilenischer Bund Hall a Santiago, Andrónico Luksic Hall of Universidad Católica de Chile, Jose María Aznar Auditorium of Universidad Andrés Bello, Castello dei Busca – Enoteca Regionale Colline del Moscato (Italia – Cuneo), Ehrbal Saal de Viena (Austria), Auditorium Daniele Bertotto (Italia – Avigliana), Salone del Conservatorio di Musica di Torino "Giuseppe Verdi", Teatro Blu (Italia – Buriasco), Monasterio di S. Vicenzo al Volturno (Rocchetta – Italia). Ha recentemente partecipato alla Masterclass "Corso estivo di perfezionamento musicale di Mango"(Italia), Vienna International Pianist Summer Festival (Austria), Corsi di Musica d'Estate a Bardonecchia (Italia), International School of Visiting Teachers of Universidad Católica de Chile. In questi ambiti ha frequentato le lezioni dei pianisti Filippo Gamba, Giacomo Fuga, Maria Gachet, Stephan Moller, Bernd Zack, Sung-Suk Kang, Taeko Oba, Frida Conn, Luis Alberto Latorre. Nel 2016 ha vinto il III premio al IX ´Flora Guerra´ International Piano Competition, Santiago de Chile. Recentemente ha ottenuto il II Premio al I Concorso pianistico Nazionale ´Maurice Ravel´ (90/100, Categoria G) di Buriasco e il II Premio al XVIII Concorso pianistico ´Città di Rochetta´ (92/100, Categoria D). Sta attualmente frequentando il Triennio al Conservatorio Giuseppe Verdi di Torino con Giacomo Fuga.
Per ricevere informazioni sulla stagione concertistica scrivere a biglietteria@viottifestival.it  o telefonare al numero +39 329 126 07 32  Nei mesi estivi la biglietteria, presso il VIOTTI CLUB via G. Ferraris 14, Vercelli, è aperta dal mercoledì al sabato dalle 14 alle 18.50 e un'ora prima del concerto presso il  MUSEO LEONE, sede dei concerti, in Via Verdi 30 – 13100 Vercelli